428XSO, 520XSO, 525XSO, 530XSOZ1

Standard Motorcycle

General Street Use

RX-Ring Chain
Standard Sealed Chain
---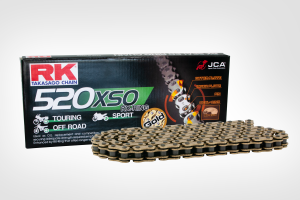 RK XSO Series: Designed for Basic Motorcycle Models, lighten chain weight while securing adequate strength required, emphasizes light feeling of acceleration.
Features RX-Ring that have "X" shaped seals and improved metallurgy giving you 2 times longer wearlife than standard O-Ring chains.
Color Variation
---
Available in Gold and 5 Solid Colors(Blue, Green, Orange, Red, and Yellow).